4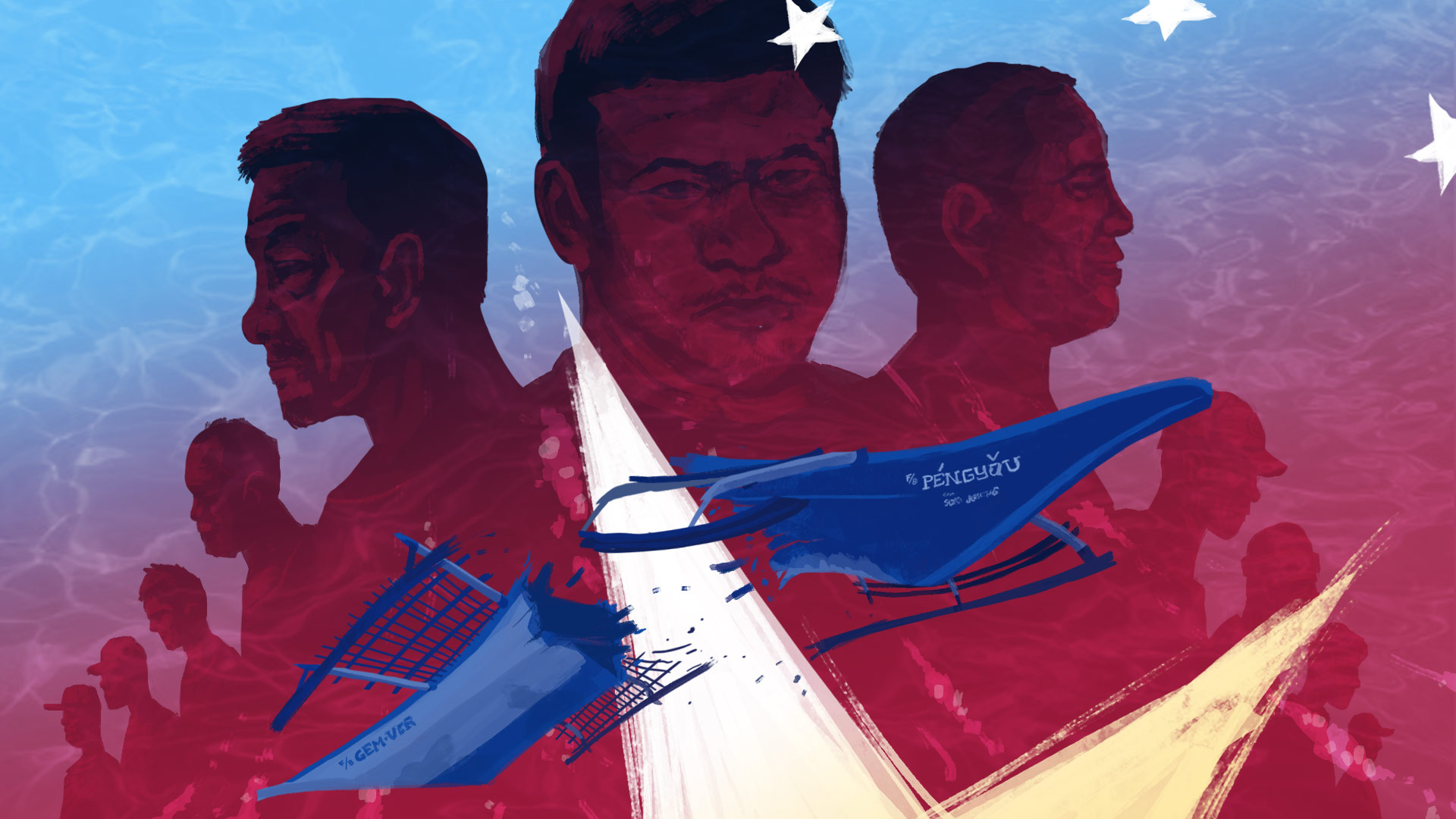 The second sinking of Gem-Ver
desktop
Part 1: Rappler returns to San Jose 5 months later, in November, as the crewmen finish their repairs and prepare to sail back to Recto Bank. While Gem-Ver has been patched up, its men have drifted apart.
---
I. What 5 months can do
OCCIDENTAL MINDORO, Philippines – When the men of Gem-Ver returned from the West Philippine Sea, they appeared unstoppable.
Shoulder to shoulder, they stood at the bow of the Philippine Navy's BRP Tausug, gazing towards the horizon as they sailed home while the sun set on June 14. They all wore the deep blue shirt given to them by the Navy, swapping stories and punch lines from home. After 17 days at sea, they longed for nothing more than to see their families after a close encounter with death.
They told the story as one: a Chinese boat rammed and abandoned them in the middle of the night in the middle of the sea – a sea they thought was theirs.
"They really rammed us. If they really tried to help us, they shouldn't have sped away," Junel Insigne, the captain, said after China falsely claimed that his crew "besieged" the Chinese ship.
"They saw us sinking. They left."
They pleaded for help to start anew. Mister President, they cried, step in and hold the Chinese accountable. Help us fish again.
President Rodrigo Duterte downplayed their story and an official investigation into the sinking resulted in having the fishermen share blame for lacking a lookout on the night they nearly died. Worn down by publicity and stunned by their own top officials' doubts about their story, they sought peace.
It was time to build their boat, they said. Together.


Rappler returned to San Jose 5 months later, in November, as the crewmen finished their repairs and prepared to sail back to Recto Bank. While Gem-Ver had been patched up, its men have drifted apart.
On the morning of November 14, Gem-Ver sailed again after its new crew spent 4 hours pushing the boat out from the sand with their bare hands. Its captain Junel was nowhere to be found among the men who cheered, following the boat's last heave into the water. Instead, he was painting plywood for a different boat a few strides away on the same shore. A mask covered Junel's face, leaving only his eyes exposed as he watched his former crewmen celebrate.
The mechanic, Boy Gordiones, was no longer part of the crew. Instead of caring for Gem-Ver's engine, Boy sat on a monobloc chair in his home, as he minded his sari-sari store just two minutes on foot from the voyage point.
Of the original 22 Gem-Ver crew, a total of 16 remained. Six either left or were fired. Ten new men were hired to replace them.
A dispute over money created a wedge between Junel the captain and Gem-Ver's owners. Then a botched donation from a Chinese company facilitated by Duterte's special envoy to China, media personality Ramon Tulfo, caused the other crew members to walk away.

"We can't do anything about it. This is how it is now," Junel told us.
But even before the sail in May that would change their lives, Gem-Ver's captain and its owner were already in rough waters.
II. The night before the fateful sail
It was past midnight on May 28, 2019, when Junel woke up to a loud banging on his door. On the floor of the living room of his unbuilt home, Junel lay in the dark beside his wife, Lani, and their son Prince, as the thuds grew faster and louder.
Lani nudged Junel to the door then stood and peeked through the window. She saw Gem-Ver's owner, Felix dela Torre, standing, demanding for her husband.



At the front door, Junel listened to his boss fume. Reeking of alcohol, Felix ordered Junel to have Gem-Ver sail at once. The boat was supposed to be on its way to Recto Bank the previous morning, but he barked, Junel was absent.
Junel tried to reason with Felix. Repairs on the boat's machine had just been completed and as the captain, Junel decided it was best the crew left the following morning, to avoid the risky evening voyage.
Felix cursed as he walked away.
This episode aside, the two men were like family. Felix is the godfather of Junel's son. And in the 4 years that Junel had been captain, it was not the first time he and Felix quarreled over changes in schedule.
But that night proved to be the last straw. Junel stood in the dark and decided that the upcoming trip would be his last with Gem-Ver.
The next morning, Junel arrived at Felix's home where Gem-Ver's 21 other fishermen had been waiting, ready to sail. They left like it was any other fishing trip. They said goodbye to their families, ate breakfast as one crew, and packed their equipment and a few personal belongings onto the boat.
Before leaving, Junel told some of his men of his decision. They accepted without saying much as they voyaged to the West Philippine Sea.
Only 12 days out, midnight approached on June 9 when a Chinese steel trawler emerged from the dark charging towards Gem-Ver, tearing the wooden boat's stern.
As Gem-Ver sank, the fishermen crowded for hours together on what was left of the prow peeking above water. The near-death experience, announced to Filipinos on Philippine Independence Day, made the 22 men the face of the Philippines' maritime dispute with China.
After returning, Gem-Ver's men lingered for weeks around the Dela Torre home, waking at dawn and staying until dark with bottles of Red Horse. During those days, Felix and Junel put their arms around one another as they vowed to repair their ship.
"We'll fix it. We'll fix it up. We'll salvage it," Junel recalled Felix promising them over and over.
For that moment in June, it seemed Gem-Ver's sinking washed away the tension between Junel and Felix. Yet, 5 months after the sinking, they were no longer on speaking terms.
III. Loyal captain wanted
Felix dela Torre laid back in his hammock in the hut of his two-story house facing the sea as he stubbed a cigarette in the sand and told the story of how he and Junel fell apart.
"We were friends, of course. We only live in the same area. I just didn't expect it to end this way," Felix said in Filipino, pain in his eyes.
When Gem-Ver sank, Felix charged towards the West Philippine Sea to lead its homebound haul. He wept when he first saw the damaged boat – passed on to him by his late father – barely floating as his men stood silent on a nearby rescue boat, reeling.
After counting his men, Felix's most urgent concern was rebuilding Gem-Ver. The sooner it could get back to the water, the sooner they could work.




Sleepless and shell-shocked, he faced a row of journalists in his own home, telling the nation that he felt like they were treated by China as slaves in their own waters, and that they needed help to return.
"This is a huge loss to us because this is our source of livelihood, especially for my men who count on me. They are already family to me," Felix told reporters, choking as he started to cry.
Gem-Ver's stern had been torn off, the masts toppled, and its equipment had been gutted by the waves. The 3 tons of fish each crewman worked days for were gone.
The government asked how much aid they needed. Felix estimated P2.2 million would cover the loss and repairs. Months later, they received only P1.2 million from a donation made by Filipino-Chinese businessmen.
The Dela Torres kept the receipts for all their expenses. Slips of paper for copper nails, paint thinners, cutting discs, flap discs, sanding discs, spray paint, a garden hose, an expansion shield, a royal cord, steel wire, a polyfunction box; nuts, bolts, and a washer all measuring ⅜ x 2 inches were carefully tucked in an apple green plastic folder.
The expenses amounted to P2,137,507.


To pay for the deficit, the Dela Torres pawned their jewelry, including their silver wedding rings for P40,000. Felix, who found leisure in cruising mountains aboard his big bikes, sold his Tinker Motors ATV for P35,000.
For 5 months, Gem-Ver was parked naked in front of the Dela Torre home for repairs. They could not afford a professional team for a quick fix so they counted on the carpenters they knew from town and Gem-Ver's fishermen themselves to work 6 days a week.
Junel, who lived 3 minutes away on foot, was the painful no-show.
"He didn't show up. He didn't make time from the start. That's the number one concern. We didn't oblige them to work. But at least show a little concern," Fe, Felix's wife, said.
The Dela Torres eventually heard of Junel's planned exit from the whispers of their men. Stung by betrayal, Felix asked Fe to pull out their record book and send a handwritten tally of the captain's debt. The paper bore no explanation, only a stack of numbers. At the bottom, shocking Junel's wife Lani, was "P120,000."

A few days later, sitting inside their home, Junel and Lani overheard neighbors through their kitchen window, gossiping about how a man named Joan Gadores was faring as the new captain of Gem-Ver.
"When I heard that...I never returned," Junel said.
IV. Chinese 'friend' to the rescue
Another month passed and after more than half of the repairs on Gem-Ver was completed, an offer came to reunite Felix and Junel. A Chinese group promised a boat that would take them back to the West Philippine Sea.
The Gem-Ver crew and Felix attended the turnover ceremony in Batangas City on September 22, organized by the office of President Rodrigo Duterte's special envoy to China, Ramon Tulfo.
What they saw shocked them. Floating without promise was a boat with a crack running down its middle. The paint, while new, was peeling. Cockroaches crept inside the hull when they opened its hatch.
It was named Pengyou, which in Mandarin meant "friend."
THE GIFT. The F/B Pengyou on the beach of Barangay Pag-asa, San Jose, Occidental Mindoro on November 13, 2019.

Junel and Felix found themselves bonding over the sight of the dilapidated boat. It was between laughter that Felix finally told Junel that he hired a new captain. Junel accepted his boss' decision. Gem-Ver was Felix's boat, after all.
Seeing a truce, Gem-Ver's men decided they would fix Pengyou together to use it and not merely serve as its crew. They started the Recto Bank Survivors Fisherfolks Association and received the new boat as its owners, sailing from its homeport in Balayan, Batangas.
But Pengyou complicated their lives.
While they wanted to use the boat as soon as they could, Felix and his fishermen prioritized rebuilding Gem-Ver. They were spending all that they had on Gem-Ver, and none of them believed Pengyou could make a voyage to Recto Bank and return in one piece.
This, as Junel saw it, meant neglecting to take care of Pengyou entirely. To keep it functioning, the fishermen had to clean the boat every day and watch over it every night to prevent any thieves from raiding its equipment and carving out its parts.
Junel suddenly found himself guarding the boat alone. He lost count of the nights he spent aboard Pengyou, losing sleep as he waited until the sun rose.
Feeling abandoned by his own men, he went rogue. Junel rented out Pengyou to the local government and invited only his most trusted men to form its crew: former Gem-Ver mechanic Boy Gordiones, the brothers Jomar and Jaypee Gordiones, and Bannie Condeza.
The rest of the original crew were left unaware of this arrangement.
Junel and his chosen men completed the work in a day. They ferried chairs and tables from mainland San Jose to the island barangay of Ilin, an hour-and-a-half away. They were back before the sun set. They made P12,000 and divided it among themselves. Junel said that with other men he invited, they all got P1,000 each.
"We decided we would make a living out of this. They left. No one came to help me," Junel said.
The Dela Torres and the other men eventually heard of the private trip but decided to forego a confrontation. They spent all their energy fixing Gem-Ver so they could squeeze a voyage at year's end and earn cash for Christmas.
But after another trip by Pengyou, Felix decided to fire the fishermen with Junel who were still with Gem-Ver. This was because the ex-captain took the boat not to earn, but to bring his family for a picnic trip on an island just 30 minutes away. Boy manned the entire boat as Junel and his family relaxed.
The Dela Torres and Gem-Ver's other fishermen were by the shore when they saw Pengyou approaching from the horizon.
"He did not tell us about the picnic. As a sign of respect for his main crew, he should have asked for permission," Felix said.
Junel had plans to use the boat again, but then came Typhoon Quiel on November 11.
Every fisherman knows that to keep a boat afloat when a storm arrives, it must be held to the shore with two rope lines. Working alone, Junel was only able to tie one.
The next morning when Quiel passed San Jose, Pengyou was found nearly 2 kilometers from its anchor point in San Roque, washed ashore and emptied, its body ripped in half.


V. Collateral damage
After Pengyou's demise, each fisherman who knew of Junel's exploits tried one by one to make their way back to Gem-Ver for its finishing touches.
Bannie Condeza, who lived the farthest in the town's resettlement area, showed up for the first time at the Dela Torre home after breakfast. He walked to his companions in the wooden hut and tried to help smoothen bamboo when Jaypee walked over with a message.
"Boss said you shouldn't tire yourself out," Bannie recalled Jaypee telling him.
Shamed, Bannie left.
The same happened to Boy's youngest son, Jomar. In the morning he planned to return to the Dela Torre home, his brother Jaypee said Felix preferred it if Jomar no longer joined Gem-Ver.
"I don't even know the reason why I was fired. It also hurt. I was removed. Now, I can't join them," Jomar said.




Boy and the Dela Torres held no grudge towards each other, but Boy did not trust the new captain, Joan. Years ago, on a voyage to Recto Bank aboard fishing boat M2M, Boy's son, Jaypee, was left alone in a fishing area. While Jaypee said he had moved on, Boy did not forget how Joan, then the captain of the sail, refused to search for Jaypee even after Boy pleaded.
"He told me if you could venture far from the boat, you could find your way back," said Boy.
"That is my son."

The rest of Gem-Ver who stayed with the Dela Torres said they felt abandoned by Junel.
Pengyou, Richard Blaza said, held the fishermen's hope to start anew – a clean beginning that could free them from the cycle of debt they lived in working solely for boats owned by the Dela Torres.
"We all owned that but only one person made the decisions. We pinned our hopes on that," Blaza said.
For Boy, the most senior fisherman among them, the government should have never donated a boat in the first place, especially if it was one they could not use.
In 2019, a boat sunk by China united the 22 men of Gem-Ver. But even before the year could end, another boat pulled them apart. (To be concluded) – Rappler.com
---
VIDEO: Charles Salazar
ILLUSTRATION & ANIMATION: Nico Villarete with Rosette Abogado
CREATIVE SUPERVISION: Emil Mercado
DESIGN: Jonathan Concepcion
EDITORIAL SUPERVISION:: Glenda Gloria and Chay Hofileña
---